ABOUT NORTHEAST TEXAS POWER, LTD.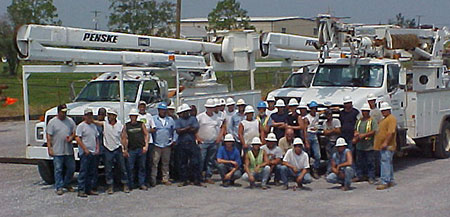 In business since 2001, Northeast Texas Power, Ltd. (NETP) is the power company of choice for electrical co-ops in East and Central Texas. We provide employment for more than 70 highly trained employees. We have specialized aerial equipment, and years of the years of experience necessary to satisfy your electrical needs. We are fully equipped and trained to handle overhead and underground distribution and 69kv transmission. NETP routinely handles reconductoring, pole-changes, work orders, conversions, maintenance and systems upgrade services for our customer's electrical power distribution systems. In addition to these services we are an integral part of our client's emergency response teams. Clients rely on us to provide expertise in power restoration following any storm related outages.
NETP stresses safety at all times. We are OSA and ANSI compliant.
North East Texas Power, Ltd. contracts with Texas Utilities Mining Company (TUMCO). TUMCO is the largest coal mining concern in the state of Texas. The coal produced by TUMCO feeds Texas Utilities (TXU) electric generators serving the majority of Texas electric consumers. TUMCO depends on us to provide designs and materials as well as build many of their projects. As a result of this relationship, NETP has established a excellent line of credit with major distributors of electrical transmission and distribution supplies. Our excellent credit rating enable us to control costs and to and complete projects without delays.
We are also working with Texas A&M University, Commerce on a number of system upgrades. As the university expands NETP has proven to be the contractor they can rely on to get the job done efficiently and in a timely manner. Many construction activities are scheduled during semester breaks so must be completed on time. And we have consistently delivered.
North East Texas Power, Ltd. works closely with three other mid-size power line contractors in the state of Texas to provide emergency power line service restoration and rebuilds when necessary. We supply qualified line personnel, state of the art equipment, and a safety management plan that is second to none. Working together with the other contractors NETP can provide 70-100 qualified power line personnel and top quality equipment to your service area for immediate response. Our cooperative group works under one established set of prices for labor and equipment so that we can collectively gather to work to meet your emergency outage needs quickly and efficiently without sacrificing safety or quality.
NETP can provide service bucket capabilities for any job. We have extensive knowledge in street light, sports stadium, and commercial business electrical maintenance and installation.
You can count on North East Texas Power, Inc for all your electric distribution needs. Feel free to contact us to learn how we can help solve your power dilemmas.