TRANSMISSION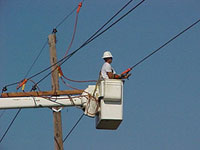 A transmission system delivers electrical energy from the generating station to the transmission customer and the distribution system. The transmission system is a complicated networked system that connects generating stations to substations. Substations distribute electricity to customers. Northeast Texas Power, Ltd. maintains, repairs, and replaces the portion of a transmission system which consists of:
Wood poles and steel structures - Support the conductors and the power line, running between substations
Substations - Contain protection, metering, and communications equipment, and equipment that transforms power to different voltages, and/or voltage control equipment
Individual generators within a station, their associated systems, voltage control, turbines, and governors, protective equipment, and the auxiliary loads that keep generators operating
A transmission system is designed and operated to transfer large quantities of electricity reliably, safely, and efficiently.
When the system goes down due to storms, equipment failure, wear and tear, or any other reason, the electric utility's responsibility is to get the system back up and working properly as quickly and efficiently as possible. That's why it makes sense to call Northeast Texas Power, Ltd. We understand the importance of restoring power to the general public as quickly as possible. Our experienced reliable response team is ready 24 hours a day 7 days a week to handle your outages and maintenance quickly, efficiently, and safely.
You can count on NETP to be there when you need us most.