OVERHEAD DISTRIBUTION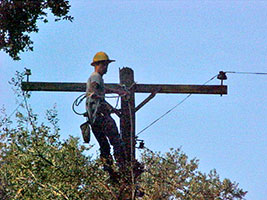 The Northeast Texas Power, Ltd. safe, skilled, and highly productive overhead line workforce are ready to serve your overhead construction and maintenance needs. Our employees are trained to safely perform all aspects of energized distribution work from 4kv to 34.5kv.
Typical distribution projects we perform include:
Circuit, inspection, maintenance and inventory
Drilled shaft foundations
Modifications to allow phone and cable TV attachment
Wood pole and distribution underbuild
Wood H-Frame erection
Steel or Concrete Pole erection
Lattice tower erection
Pole replacement
Construction of new three phase and single phase circuits
Line reconductoring
Voltage upgrade projects
All types of maintenance activities
Reconductor projects
Switch regulator, Recloser and capacitor additions and maintenance programs
New service installations
Line removal, installation, and relocations for highway projects
OPGW Fiber optic installation
NETP also performs overhead transmission line projects on voltages ranging from 40kv to 765kv.