SPORTS & AREA LIGHTING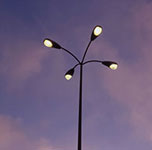 No matter what type of lighting your business or sports complex needs Northeast Texas Power can install a lighting scheme to satisfy your exact requirements.
Area Lighting


Night time illumination offers safety and security of parking lots, meeting areas, parks, etc.

Sports Lighting

Light up the field of play whether your sport is baseball, football, soccer, tennis, softball or track. NETP lighting can effectively illuminate your sports area.

Retail Lighting

Lighting your store front and parking area are the best way to invite customers to your business after dark. NETP can provide a level of lighting that will welcome your clients and customers at a cost you can afford.

Arena Lighting

With arena lighting from Northeast Texas Power, Ltd. rodeos, horse shows, and other livestock events aren't limited to day time hours only. We know how to properly light covered and open arenas so that all areas are clearly visible to participants and the audience.

Public Lighting

Northeast Texas Power, Ltd. can install lighting anywhere the public gathers. We can light the night providing a safe and secure environment in public parks, apartment complexes, common areas, at boat ramps, around swimming pools, in highway rest areas, picnic areas, or any other area that requires lighting.
As with all work we do NETP can install sports, arena, public, and commercial lighting in a timely and efficient manner. We install a comprehensive range of floodlighting systems that are individually designed for all your lighting needs. We install a wide range of mast systems including fixed masts and base hinged masts.